community Service means Business!
9 March 2010
Posted by

jim
at 3/09/2010 11:34:00 pm
No comments:
Links to this post


Allie B. sent in this image found at Washington City Paper that shows how many men and women (aged 18-29) would be pleased by an unexpected pregnancy, despite reporting they wish to avoid pregnancy (additional images taken from the report found here):
Notice that in every category, men are quite a bit more likely to report they would be happy by an unplanned pregnancy. As the WCP article suggests, this would seem to undermine the common perception that women are baby-crazy and secretly hoping they'll get pregnant.
Perhaps not surprisingly, both men and women are more likely to report they'd be happy about a pregnancy as they get older.  Hispanics also stand out as significantly more likely to report they would be happy about an unplanned pregnancy than non-Hispanics.
Despite this, the vast majority of all groups said that pregnancy should be planned, with men actually a little bit more likely in all categories:
The responses to these two questions seem contradictory: you believe pregnancy should be planned, yet a significant proportion say they would be happy about an unintended pregnancy. Thoughts about what's going on there? Perhaps individuals are saying that though they don't want a pregnancy, they would not be devastated by one, or their distress would be outweighed by the excitement of having a baby, even if they hadn't actually planned on doing so? Maybe a sense of fatalism–pregnancy should be planned, but sometimes things just happen and you have to make the best of them? I'm somewhat stumped on this one, so I'd love to hear your thoughts.
We also see that, while in many cases the difference is negligible, in general women are somewhat more likely to say it's acceptable for a woman to have a child outside of marriage:
It's interesting that despite the common stereotype that African Americans are more accepting (or even encouraging) of single motherhood, in this study they were actually less likely to support doing so than were Whites and Hispanics.
(View original at http://contexts.org/socimages)
Posted via email from the Un-Official Southwestern PA Re-Entry Coalition Blog
Posted by

jim
at 3/09/2010 11:24:00 pm
No comments:
Links to this post


Study this USA Today chart and cry: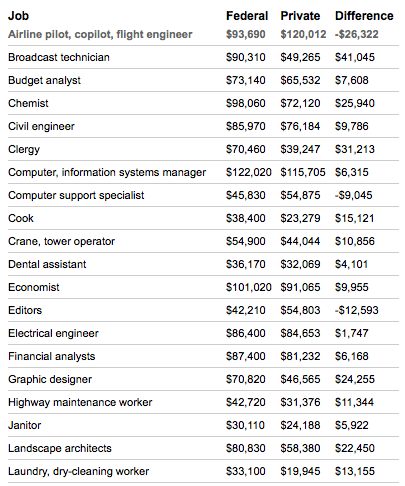 According to USA Today:
"Overall, federal workers earned an average salary of $67,691 in 2008 for occupations that exist both in government and the private sector, according to Bureau of Labor Statistics data. The average pay for the same mix of jobs in the private sector was $60,046 in 2008, the most recent data available."
And let's just add insult to injury:
"These salary figures do not include the value of health, pension and other benefits, which averaged $40,785 per federal employee in 2008 vs. $9,882 per private worker, according to the Bureau of Economic Analysis."
So now when you put your kids to bed and they tell you that when they grow up they want to be a doctor and a veterinarian, your answer should be: "Honey, these are all great choices, but what you really want to be is a bureaucrat."
Here and here are more arguments to convince your little ones.
Posted via email from the Un-Official Southwestern PA Re-Entry Coalition Blog
Posted by

jim
at 3/09/2010 12:03:00 am
No comments:
Links to this post


8 March 2010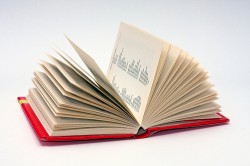 Poverty advocates have long doubted the relevance of the antiquated federal definition of poverty, which is based on the cost of food in the mid-1950s rather than the cost of living in the 21st century. The federal government recently took an initial step toward redefining the federal definition of poverty using a new formula that more accurately reflects the cost of living and people's assets and incomes.
As homeless advocates, we should follow the lead of those fighting to change the federal definition of poverty and encourage HUD (the U.S. Department of Housing and Urban Development) to expand its definition of homelessness to include not only people living in the street or in shelters, but people in motels and with friends and family due to economic hardship, as the McKinney-Vento definition does.
Definitions are important. Definitions provide the constraints in which we collect data.  Good data should be representative of reality. However, data is only meaningful when it is collected, and interpreted, in the context of sound definitions.
For example, the City of Pasadena, California, just announced the results of its most recent annual homeless count. Like most homeless counts, the city attempted to enumerate the total number of persons living on the streets or in shelters on a particular day. The city identified a total of 1,137 people as homeless, a 13 percent increase over last year. Provide homes for those 1,137 and the problem disappears, right? Wrong.
While I have serious doubts about the methodologies used in homeless counts generally, my point here is not to dispute the method of the count, but rather to comment on the definition it is predicated on. It is simply inane to assess the level of homelessness in a community and not include people living in motels or double or triple occupying cramped apartments with friends or family. The risk in not adopting a more realistic definition of homelessness is very real.
If we are to end homelessness, we have to agree on what homelessness means, and how we measure it. The current HUD definition, which acts as the basis for homeless counts, fundamentally obscures our ability to assess the true number of persons experiencing homelessness. I believe that data is important, but I don't like playing number games. If we end homelessness based on a definition that under-counts the true degree of human suffering, we will have ended homelessness by definition, but not by deed.
Photo credit: Horia Varlan
Posted via email from the Un-Official Southwestern PA Re-Entry Coalition Blog
Posted by

jim
at 3/08/2010 11:47:00 pm
No comments:
Links to this post


7 March 2010
While we throw terms like"harsh", "retributive" and "punitive" around in describing the American penal system(s) today, the language has yet to capture the distinctive role that the subject position of the crime victim has in shaping the measure of punishment being handed down in US courtrooms and parole boards. While state penal codes continue to list punishment, deterrence, incapacitation, and even reform as primary goals of imprisonment, judges are increasingly vocal in insisting that sentences incorporate the scope of the victim's future suffering. Case in point is the 30 year sentence handed down to a former hospital worker, Karen Parker, who admitted stealing syringes meant for patients and replacing them with used syringes contaminated with Hepatitis C, by Federal District Judge Robert E. Blackburn in Denver this week (read Kirk Johnson's
reporting
in the NYTimes). It is hard to imagine a stronger case of victim damage (short of death). They were "attacked" at a time of maximum vulnerability, while receiving pain medication prior to surgery in a hospital (Hobbes thought the fact of having to go to sleep at all was enough to justify a punitive sovereign, he did not anticipate surgical anesthesia) and now face a lifetime with an incurable, chronic, sometimes disabling and life threatening disease. Apparently it was hearing the victim testimony that lead Judge Blackburn to the unusual move of rejecting a 20 year sentence agreed to by the prosecutors, and imposing a 30 year sentence this week.Parker's actions epitomized "selfishness" as the Judge emphasized. But neither was the admitted heroine addict the epitome of the cool calculating "hit-man" or "terrorist" who decides to sacrifice lives to their own deliberated ends. What troubles me is using prison sentences to work out some kind of just measure of the victim's suffering. This logic inherently leads to excess. What if hundreds were contaminated (as has happened), would Parker have sentences her to life without parole? In other cases judges have handed down life-trashing sentences in the name of the victims' suffering even where the defendant clearly lacked meaningful capacity for responsible action due to severe schizophrenia (consider the
Kip Kinkel
case in Oregon in the late 1990s). Clearly the victim's cannot be "compensated" through the punishment of Parker. They deserve better, starting with health insurance for those dropped or forced into a more expensive plan because of their condition. A stiff prison sentence is an appropriate way to communicate the seriousness of crime to the community, and thus to provide the victims public recognition of the terrible wrong they suffered. It is also an appropriate way to deter, although we have every reason to doubt the Karen Parkers of this world respond well to threats of lengthier punishment. A proper combination of restorative justice for the victims and appropriate restraint and punishment for the community is something we can achieve without decades of prison time. But trying to carve justice out of the time a body is locked in prison can only prove futile and cruel.With our prisons filling with inmates facing lifetimes of punishment, we need to find a way to restore some measure to prison sentences.
Posted via email from the Un-Official Southwestern PA Re-Entry Coalition Blog
Posted by

jim
at 3/07/2010 10:25:00 pm
No comments:
Links to this post


Drop-off Box

Blog Archive

Thinkin" Buddies